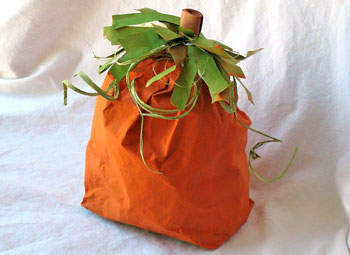 These pumpkins don't grow on vines but they have something in common with fortune cookies and piñatas.
The Recipe:
1. Take a lunch-sized paper bag and fill the bottom with torn paper.
2. Before twisting closed, insert a handcrafted thanksgiving haiku or two.
3. Twist the top of the bag tight.
4. Paint using pumpkin colors.
5. After the paint is dry, use ribbon and raffia to decoratively seal the stem.
Display during the Thanksgiving season and tear open when it's time to celebrate gratitude.
-Kim