Description
FREE Summer Reading + Writing Circle
Meetings: 1 hour, Once a week for 5 weeks
Date: 7/8/2021 – 8/5/2021
Time: Thursdays 9:00 am – 10:00 am PST
Literature Unit: Level 3, The Thief Lord
Grade Level: Entering 6th, 7th & 8th grade
Enrollment Deadline: 6/25/2021
---
We will be meeting as a group with students once a week for an hour, walking them through one literature unit.
Each week we will offer tips to help them navigate the elements of their student journal, offer one-on-one feedback on the weekly writing exercise, and discuss the reading.
Our Integrated Literature and Writing Discovery guides are designed to develop habits of thought and habits of work when used consistently over time. Manageable daily activities help students engage in thoughtful reading and meaningful writing. Stories come alive as students are invited to journey alongside the characters they are studying.
Each unit will involve minimal homework outside of the class. This work will, of course, involve independent reading and writing. But this work will be supported by our lovely teachers who will encourage and inspire your children along the way. After completing this summer group, students will be ready to face fall with confidence.
How To Register
Simply add this item to your cart and checkout. You will receive a Zoom link and further instructions by email about a week before the first class date.
While the classes are FREE, you will need to purchase your student's individual curriculum.
Click on the image below to purchase: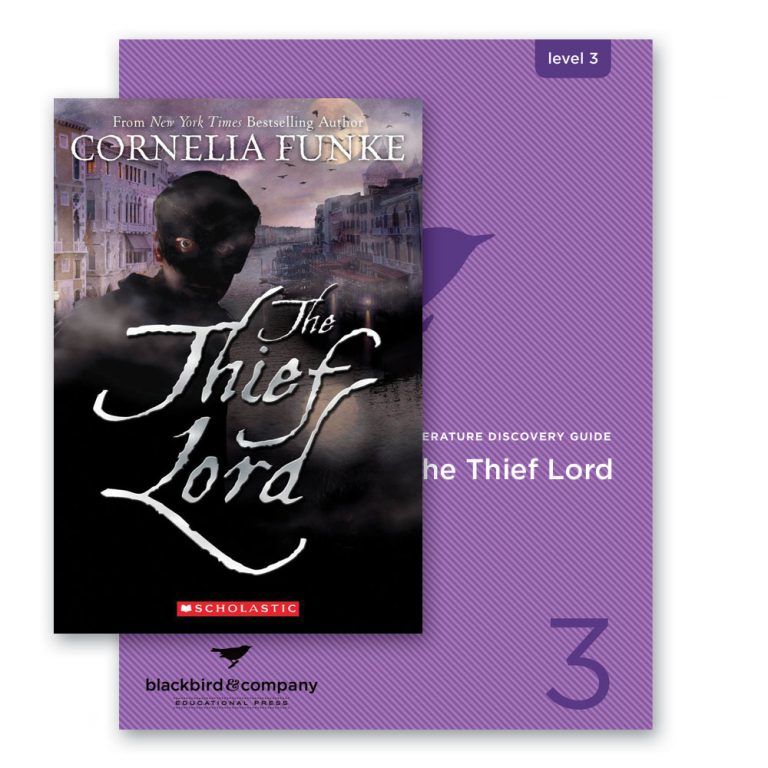 The Thief Lord
Thieving children, a disguise-obsessed detective, and a magical merry-go-round are woven together to tell one phantasmal tale. After their mother dies, Prosper and his brother, Bo, flee from Hamburg to Venice because an awful aunt plans to adopt only Bo. They live in an abandoned movie theater under the care of the Thief Lord, who claims to rob the city's most elegant houses. When a mysterious man hires the Thief Lord to steal a wooden wing, the plan is altered when Victor, the detective Aunt Esther hired to track the brothers, discovers their camp.